The Pera Palace Hotel Galata Foyer, was transformed into a brand new art gallery with the collaboration of Istanbul Concept Gallery and Pera Palace Hotel. With an exclusive Kick-off event combining tradition and innovation in one of the world's cultural epicenters, art leaders joined to celebrate this preview.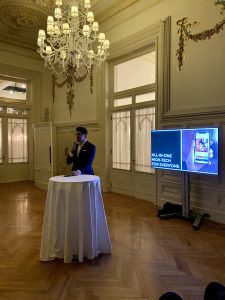 The artist Mahmut Celayir, exposed "In the Trace of the Shadow / Tracing the Shadow", with different techniques such as oil and acrylic on canvas, silk printing and collage. The digital and NFT wing of the exhibition is organized by 4ARTechnologies. After the preview, the guests attended a special reception themed Midnight at Pera Palace, organized in the ballroom of Pera Palace Hotel. Dino Lewkowicz, Director at 4ARTechnologies, presented the NFT works of the exhibition during this reception.
This event brought together leaders from culture and industry to learn about current developments and future visions for the local and global art market.
Ekrem İmamoğlu, Mayor of Istanbul Metropolitan Municipality, was present along with Enver Öncü, Chief Controller of the Ministry of Culture and Tourism. 
Other international guests relevant to the art business, like actors, collectors and curators, as well as the press, took part in this event.
This venue unites tradition and innovation, so it was the perfect place to host this event. It is known that the crime author Agatha Christie was a constant guest of Pera Palace Hotel. "Murder on the Orient Express" was thought to be written in room 411, where she always stayed.
4ARTechnologies is proud to take part in several events and keep bringing revolutionary solutions to the art market.