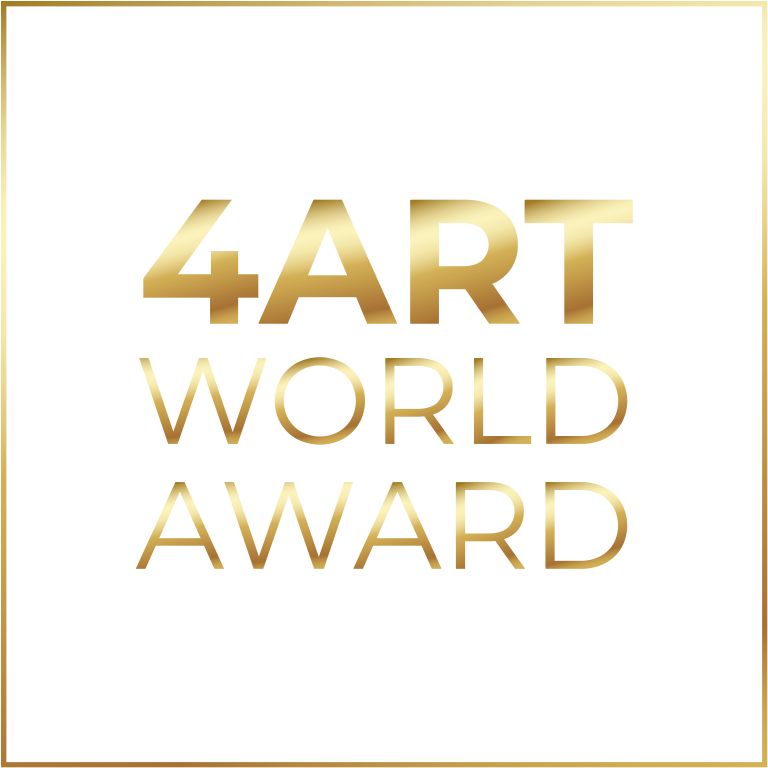 Take your Career
to the next level
Become 4ART artist
of the year
Introduce your artwork to collections and clients in more than 60 countries and become 4ART ARTIST OF THE YEAR. This award is a chance to establish yourself in the art industry and take your career to the next level.
All artists are welcome, no matter if you are a painter, illustrator or art photographer. Everyone has an equal opportunity to win and be seen by leading industry experts. Click the "ENTRY COMPETITION" button to register in a few seconds. Participation is free of charge.
After completion of the application an international art industry jury will select the best 10 ARTISTS OF THE YEAR. The winners will be officially announced and will have the opportunity to advance their professional careers on the unprecedented platform of 4ARTapp, with exclusive access to over 80.000 users from renowned galleries, institutions and Major collectors.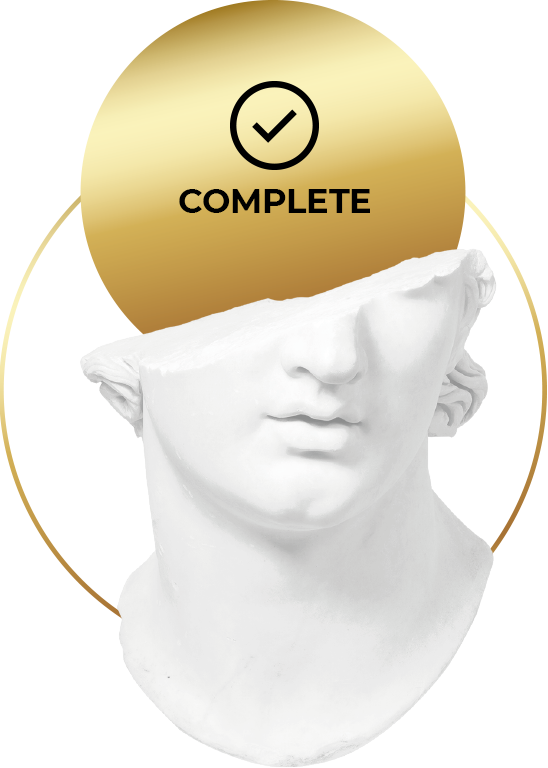 Take the Chance
Registration requires only 4 steps:
Fill the form in the website (Link)
Upload your artwork in the website
Download the 4ARTapp (Link)
Activate your profile in the App
Done – Now you are set for the competition.
Be part of the future of art and take your work to the next level!
For more information scroll down to "HowTo". Instructions, how to activate your profile in the 4ARTApp, you can find here.
Why do we do what we do: 4ARTechnology, the world's top innovator in the art industry and an important digital link between all major players in the art market, is launching the International 4ART Award, to support artists from all over the world.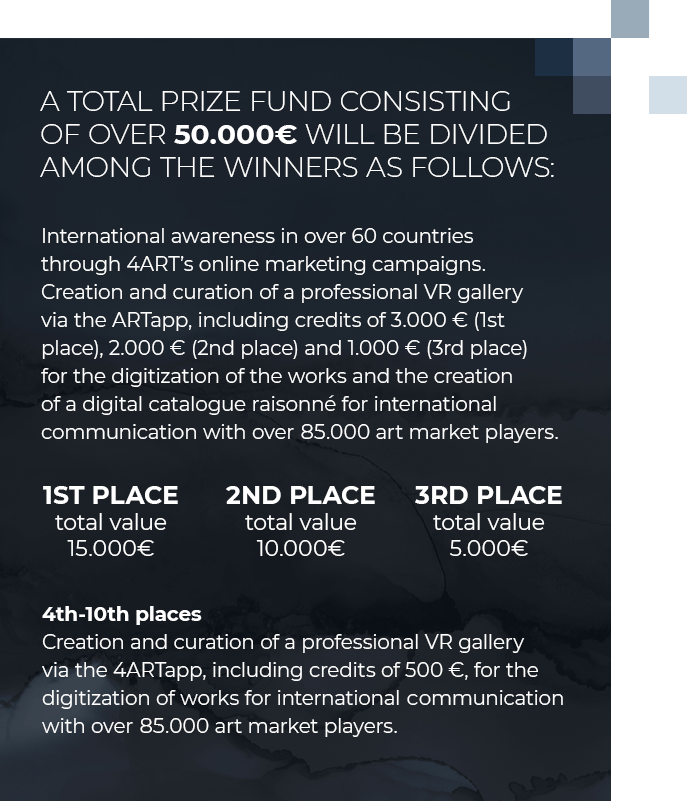 Additional information and rules
Art revolutionizes and we think that's great!
Good pioneers bring about meaningful revolutions if the quality of the project and its implementation are right. 4ARTechnologies allows artists to take advantage of the opportunities of the digital age.
General
1. By participating in this competition, you declare that you agree that 4ARTechnologies AG may receive your registration data. All personal data are used by 4ARTechnologies AG in accordance with data protection guidelines.
2. Participation in the competition is free.
3. The 4ARTaward is open to all painters, illustrators and art photographers who submit their works.
4. All participants must be over 18 years old.
5. By participating in the competition, you accept these competition rules and the conditions of participation.
6. Entries must be submitted by September 1st, 2021 at 5:00 p.m. GMT.
How to
To participate, you must fill out the registration form completely and follow the instructions exactly. To participate you must fulfill 2 steps:
Basic registration here
Download 4ARTapp and complete your profile
Criteria for submitting images:
Images should be maximum 1080px x 1080px Resolution
The images should be no smaller than 1MB and no larger than 5 MB. Images should be JPEG files. All shortlisted entrants must be able to provide a high resolution image suitable for exhibition printing in case the image is needed.
Procedure
1. Entries will be judged until September 30, 2021.
2. The ten finalists will be announced online and by email on Oktober 4th 2021
3. The jury's decision is final and will not be subject to negotiation or discussion.
4. 4ARTechnologies AG reserves the right, at its own discretion, to disqualify and remove any application that does not meet the following requirements. You warrant and represent the following in relation to any work you submit.
Important
1. You are the sole owner and author.
2. Any work submitted does not infringe the copyrights, trademarks, contractual rights, or other intellectual property rights of any third party or organization, and does not infringe any person's privacy or public rights.
3. You agree to not hold 4ARTechnologies AG to account with regard to all royalties, fees and all other monies to which a person is entitled due to a violation on your part of the above provisions.
Approval
All participants acknowledge that all works submitted for the competition by 4ARTechnologies may only be used for marketing and advertising purposes for you as an artist and the event for a maximum of three years after the award ceremony in February 2021. You hereby grant 4ARTechnologies AG a non-exclusive, irrevocable use for each contribution worldwide for three years in all media for any use in connection with advertising for you as an artist and the 4ARTaward event and/or the Competition including, but not limited to, you as the author.
FYI
4ARTechnologies assumes no responsibility for incorrect, inaccurate or incomplete information, regardless of whether this is a result of users of the website or by devices or programs that are used.
Attention
4ARTechnologies AG assumes no responsibility for incorrect, inaccurate or incomplete information, regardless of whether this was caused by users or devices or programs that are related to the competition or are used in the context of the competition, and 4ARTechnologies AG assumes no responsibility for technical, hardware or software failures of any kind, lost network connections, corrupted computer transmissions, other problems or technical malfunctions in connection with the competition. 4ARTechnologies AG assumes no responsibility for errors, omissions, corruption, interruptions, deletions, defects, delays in operation or transmission, failure of the communication lines, theft or destruction or unauthorized access to or modification of entries. 4ARTechnologies AG is not responsible for problems or technical malfunctions of telephone networks or lines, computer online systems, servers, computer equipment, software, failure to deliver of emails addressed to 4ARTechnologies AG due to technical problems, human error or high traffic on the Internet or on any website, or any combination thereof, including personal injury or damage to your computer or another person's computer, related to or resulting from entering or downloading materials in the Contest. If the submission of a participant cannot be viewed for any reason or cannot be carried out as planned, including infection by computer viruses, bugs, manipulation, unauthorized intervention, fraud or technical failure, 4ARTechnologies AG assumes no responsibility.
Reminder
1. Participation in the award is only guaranteed with complete and correct registration.
2. Completely fill out the online form including uploading all necessary files.
3. Download the 4ARTapp with registration of at least 10 works or at most 12.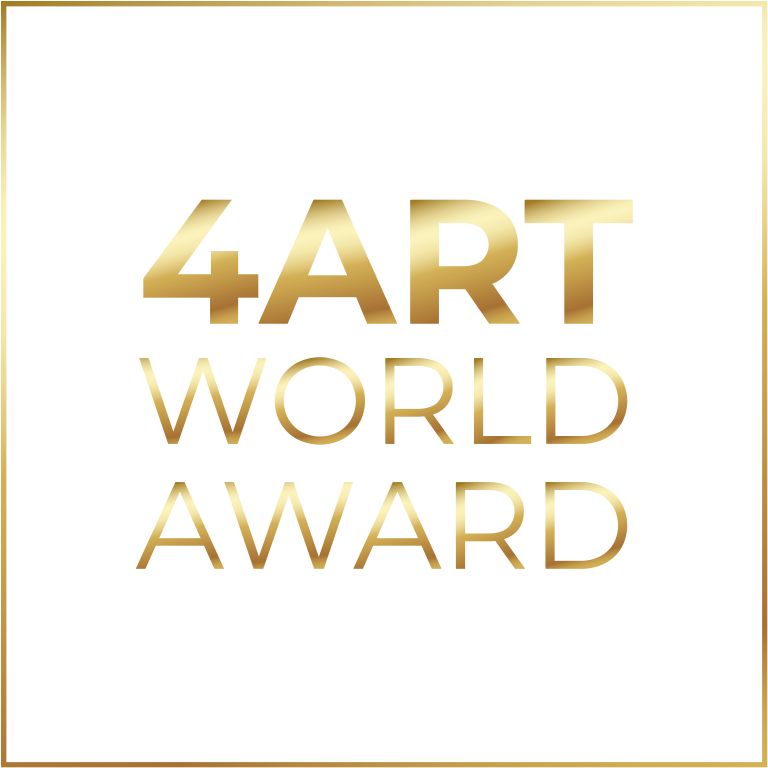 NOW OR NEVER
Application deadline is
September 1st, 2021.