Art fairs are exciting because we get to see a lot of new art as well as meet with some of the players in the art world that already trust in our work. It is fun, visually explosive, and we get to experience the most cutting-edge art trends first-hand.
4ARTechnologies will be at several art fairs this year, and we would love to see you there. Feel free to join us and ask about our new launches.
4ART will be at the following Art Fairs in September
Positions Art Fair
Where: Berlin, Germany
When: 9-12 September
POSITIONS Berlin Art Fair is a partner of the Berlin Art Week. The event shows the quality of the current international art scene, being independent from established categories.
The venue is something special: the former Berlin Tempelhof Airport. Berliners are proud to see it as a stage for international exchange and a symbol of freedom. Hangars 5 and 6 will be transformed into a showcase for art. 
Visit our stand in Hangar 6 of this monumental architectural space!
Coscmoscow
Where: Moscow, Russia
When: 10-12 Sep
4ART will be at the Cosmoscow International Contemporary Art Fair at Gostiny Dvor. We are excited to interact and network with different institutions and clients. 
For the second year running the event will be held in a 'hybrid format'. The partner TEO is the largest online marketplace for contemporary art in Russia, and the fair will be available online with the support of Visa.
Zurich Art Weekend
Where: Zurich, Switzerland 
When: 17-19 September
Join us to celebrate the arts in all shapes and sizes at Zurich Art Weekend. This is its fourth year and they promise exciting events, exhibitions, and inspiring encounters in collaboration with public and private art institutions.
We at 4ART are looking forward to meeting old friends and finding new collaborations in our home country. On Zurich Art Fair's website you can find the full agenda, and decide which events to attend. See you there!
Liste Art Fair
Where: Basel, Switzerland
When: 20-26 September
81 galleries from 33 countries will present the latest voices in contemporary art in Hall 1.1 at Messe Basel. Liste Art Fair features 106 artists, 50 solo and 17 group presentations.
The desire for collaboration and solidarity is reflected in their seven joint stands, in each of which two galleries will exhibit together. 
Visit 4ART's stand and discover our new marketplace as well as our patented technologies.
Art Basel
Where: Basel, Switzerland
When: 24-26 September
The art fair will take place at the Swiss exhibition site, Messe Basel. The hall, designed by international architects Herzog and de Meuron, includes a covered public space that resembles a railway station or indoor market. 
The galleries participating feature works by modern masters as well as pieces by the most prestigious contemporary artists and young talents. We at 4ART have always loved being part of this event, and this year will be no exception.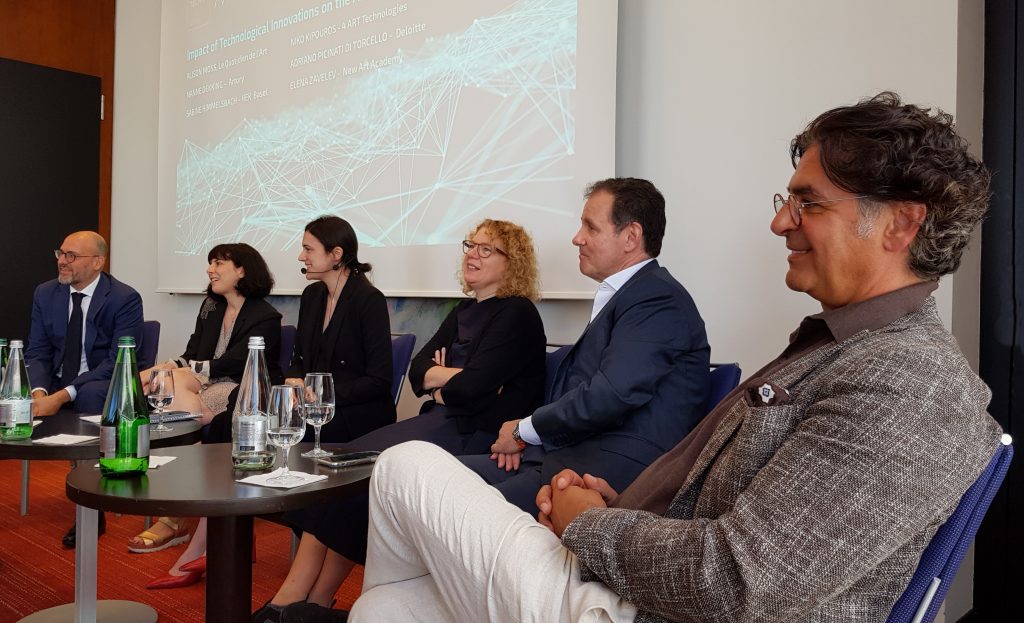 4ART will be at the following Art Fairs in October
TEFAF 
Where: New York, USA
When: TBC
New York City is one of the most prestigious art markets, and provides the ideal context for TEFAF fair outside Maastricht. The Park Avenue Armory is the top Manhattan location for the world's leading art dealers to meet with curators and collectors while showcasing their work.
Visitors can expect an exciting and rich array of featured works. TEFAF has an online fair this year in September, where exhibitors will also present artworks that tell stories in compilations of 3 pieces.
We at 4ART love to see New Yorkers and international attendees come together for this event and look forward to networking!
Frieze
Where: London, UK
When: 13-17 October
Regent's Park is the location for Frieze this year. The art fair will feature major galleries from around the world, new curated sections, special artist commissions and talks. 
Experience art from emerging talents and iconic names with thousands of years of art history. They offer an extensive schedule of museum, gallery, and partner events. The Frieze Viewing Room will also run in parallel, complementing the in-person event with online programming. 
We look forward to creating new collaborations in London!
ARTMUC
Where: Munich, Germany
When: 14-17 October 
The ARTMUC will be at the Atrium at Nymphenburgerstr, bringing art objects to buyers. The Isarforum and the stylish Praterinsel serve as the exhibition backdrop. There are always numerous young artists from all over Europe, including some from Munich.
This is the largest event of its kind in Bavaria, and viewers can find works from the genres of digital art, street art, urban art, photography and classic painting. It is considered a highly relevant sales platform for contemporary art.
Let's meet and talk at the different events we are participating in!
FIAC
Where: Paris, France
When: 21-24 October
Come and learn about the latest developments in contemporary art through works by the world's most respected artists in the FIAC, International Fair for Contemporary Art (Foire Internationale d'Art Contemporain).
The Grand Palais Ephémère, Petit Palais, Jardin des Tuileries, Musée Eugène Delacroix and Place Vendôme will host this Parisian event showcasing 1,500 artists, experts and important art market players.
French artists or artists living in France can receive the Prix Marcel Duchamp, a prize that ensures international recognition. We look forward to meeting you there and discovering new talents!
4ART will be at the following Art Fairs in November and December
Art Cologne
Where: Cologne, Germany
When: 17-21 November
Being one of the most relevant international places for high-quality art of the 20th and 21st centuries, ART COLOGNE offers art lovers and collectors art from modern and contemporary artists, as well as classic modern and post-war art from established galleries. 
Young artists are able to present their work in their own booths and the fair offers a platform for "cutting edge art" by galleries less than ten years old. 
Come by and learn more about our new launches at our stand.
Abu Dhabi Art
Where: Abu Dhabi, UAE
When: 18-21 November 
The Abu Dhabi Art event in November closes a year-long programme with several activities. This fair extends an influential sales platform for several galleries. Participating galleries showcase installations and site-specific works by their artists to a wide audience.
Each year, artists collaborate to create the fair's visual campaign and get recognized. Curated events and a selection of galleries are waiting for visitors in Manarat Al Saadiyat, a venue located in the midst of the Saadiyat Cultural District on Saadiyat Island, and recognised worldwide as a wonderful cultural space. 
Let's enjoy these activities together! 
Art Basel
Where: Miami, USA
When: 30 Nov – 5 December
This art fair combines an international selection of more than 220 leading galleries from North America, Latin America, Europe, Asia and Africa with an impressive programme of special exhibitions and additional events from the worlds of architecture, design, music and film. 
Art collectors and curators also help ensure that Art Basel Miami Beach is a special time for encountering art. There are about 268 exhibitors from 35 countries, so we at 4ART know we will be busy talking to art enthusiasts from all continents at our stand.
Come by our stand, say hello and discover the updates 4ARTapp has for every player in the art market.
Learn more about 4ARTechnologies
Now you know where to find us during this art fair season. Join our stand, talk to us, download our 4ARTapp and feel free to spread the word.
We are eagerly getting ready to visit all these wonderful events, and hope to meet you there!
About the author:
Paulina Lara Franco
SUPERPOWER:  beat the blank page's fear
Paulina is grateful that since high school she has had the chance to express herself in both communication and theater🎭. Her experience in communication has been mainly developing content strategies for education and startups.
The best advice she received was from her great grandmother: "happiness is easy."