Tremendous changes took place in the art market in 2021. What can we expect to happen in 2022 in the art world? In our blogpost, we give our readers an overview of the status quo and anticipate the newest art market trends of 2022.
Fractionalised ownership will become more popular
Many art galleries are offering their clients a kind of "neo-communistic" way to purchase art. With fractionalized ownership, it is not only one person who has control over an artwork, but many owners who possess a part of the rights. A single institution stores and displays the artwork. Partial owners of the work are able to sell or buy partial ownership. 
One high-profile advocate of this approach is the German Johann König, who founded the well-known KÖNIG GALERIE in Berlin. On his newly launched marketplace he sells analog art as well as NFTs, with the option of fractionalised ownership.
NFTs gain momentum and will be adapted in many industries
In 2021 art NFTs broke through and have become an important signifier of success, reliability and efficiency for digital and physical art transactions. The importance of NFTs is reflected in the revenue: according to "The Guardian", collectors and traders spent $22 billion on NFTs! Both sales turnover and the number of industries involved with NFTs are anticipated to grow in 2022.
In the visual art sector, 4ARTechnologies is considered to be one of the worldwide pioneers in the field of new digital solutions. While setting new standards for NFT security, transparency, and efficiency (NFT+), all services are aimed to be accessible and comprehensive. In a few steps art can be uploaded, minted as an NFT+ and sold at the integrated marketplace. Therefore 4ARTechnologies meets the needs of art professionals for easy and time-efficient art trading. And the possibilities are still evolving!
Furthermore, while visual art has so far dominated the NFT sector, in 2022 it will be one of many use cases for NFTs. As an example, the music industry is on the verge of implementing NFTs as a new way of self-expression. Experts predict that in the near future collecting NFTs of one's favorite songs could become a big trend. An early adopter of music NFTs is the DJ/producer 3LAU, who sold his album Ultraviolet for 33 unique NFTs worth $11.7 million.
Art auctions bloom in 2022
In 2022, the two biggest auction houses, Sotheby's and Christie's,  despite the uncertainties regarding the worldwide pandemic situation, both saw their total global sales surpass $7 billion. Looking closer it is not a surprise, as both have adapted quickly to the situation and have created new digital strategies. Christie's in no time learned how to market and auction digital artworks, selling "Everyday's – The First 5000 Days" at a record price. The competitor art giant Sotheby's launched NFT marketplace Metaverse, which brought over €88 million in sales in only a few months. Successful players in the art world are the ones who overcame the obstacles to doing business through digital means. Art experts predict NFT art auctions to further accelerate in 2022.
Figurative paintings become more popular
Ilaria Bonacossa, the director of Turin's Artissima, has noted a recently increased interest in physical paintings, in particular figurative art. According to the Italian art expert, an individual in uncertain times often seeks stability in approved and familiar objects, places and situations. Another reason might be that the long time spent at home reinforced the wish of many people to decorate their homes with art. In conclusion: now is the time for protecting, promoting and offering physical paintings online and in the gallery: it can be a game changer for an artistic career!
Art fairs continue to expand their online offer 
Even though an art fair will always be primarily a physical event that allows one to connect with like-minded people and share great art, the online offer of art fairs will remain and even develop in 2022. Hybrid art fairs are the most promising kind of events. On the one hand, they allow visitors to be physically present, while on the other they can also welcome art enthusiasts who can't come due to pandemic restrictions or other reasons. 
Emphasis on sustainability will change the art sector 
Pursuing sustainability is not exactly a new trend, but it will be an important movement in 2022. Over the past few years, self-commitments can already be observed in the creative industries. They will certainly determine this sector even more in 2022 and set new standards for business models. One of the most striking examples is the Gallery Climate Coalition, which aims to innovate environmental sustainability guidelines for the art sector. We can expect slow but profound changes in art logistics, packaging, and production, among others.
Web3 might be the future of the internet
Last but not least, we want to outline a new social movement, even though it is not exclusively art-related. This new concept describes a utopia of fair, transparent and decentralized internet in the near future.
Originally the internet was organized in a decentralized way. However, important parts of the internet are now provided by centralised services, such as internet service providers or search engines. There are indications that blockchain as a technology has the potential to remedy this situation. It enables the identification of users in a secure and decentralised way, without the need for an intermediary. In order to not fall behind, many platforms will have to adapt to this new way of doing things. Even if a radical change is unlikely, there is hope for those who want more privacy and security online. 
To sum up, new positive changes are coming, and some existing trends will keep growing in 2022. To stay up to date on relevant topics, follow our channels on instagram @4artechnologies and @4artmarketplace!
About the author: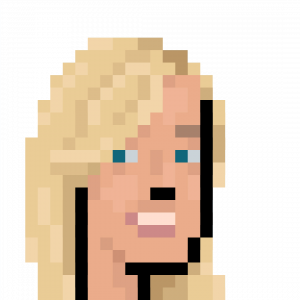 Alina Archelrod
Superpower: telling exciting stories.
She always loved painting and drawing. In high school, she often made pencil portraits of her classmates.  "Unsurprisingly, I studied art history and art education." Today she works from Berlin and now goes to the beach only to sunbathe.🏖️  
"See life as a game" is the best advice anyone has given her.