"Tirage 1/1" gallery presents an NFT project of Russian artist Daniil Arhipenko made in collaboration with 4ARTechnologies. Within the framework of the "One day – One Year" project Arhipenko is creating one NFT artwork and one painting every day during the year. The result of the annual collaboration will be an auction, where the "One-year" collection will be presented.
In his beneficial NFT project "One Day – One Year" Arhipenko continues the line of "Imprints", expanding the horizons of the author's interests by including the possibilities of the digital universe. Arhipenko researches the human being and its environment, perceiving nature as the main architect of life.
Every day during the year, Arhipenko is creating two pieces of art: a canvas painting and a digital work. The last contains a video that conjoins the unified artificial layer, connecting time, space, and a definite place, where later the characters appear. A mint of the everyday work happens at the day of the creation, which is protected and confirmed by blockchain technology. The result of the project is a year from Daniil Arhipenko`s life where every day is not only lived but also artistically reflected.
The final goal of 'One Day – One Year' is to create the 'ARHIZED' alphabet, which allows you to turn any text into an endless picture. For the Cyrillic alphabet, Arhipenko will choose 33 of the 365 works he created during the year, assigning a color to each specific letter. For the Latin alphabet, 26 pictures will be chosen accordingly. Thus, any text can be encrypted in a special way and colored with certain colors, which will ensure its visual embodiment. 
In July 2023, the 'One Year' collection will be auctioned on the 4ARTechnologies platform. The opportunity to acquire several works that will constitute a year and become the basis for a new artistic language – significant calendar dates and future letters – is already available now and will be maintained until the end of the project. Upon its completion, the new owner of each token will also be able to put the purchased NFT on the 'One Year' auction.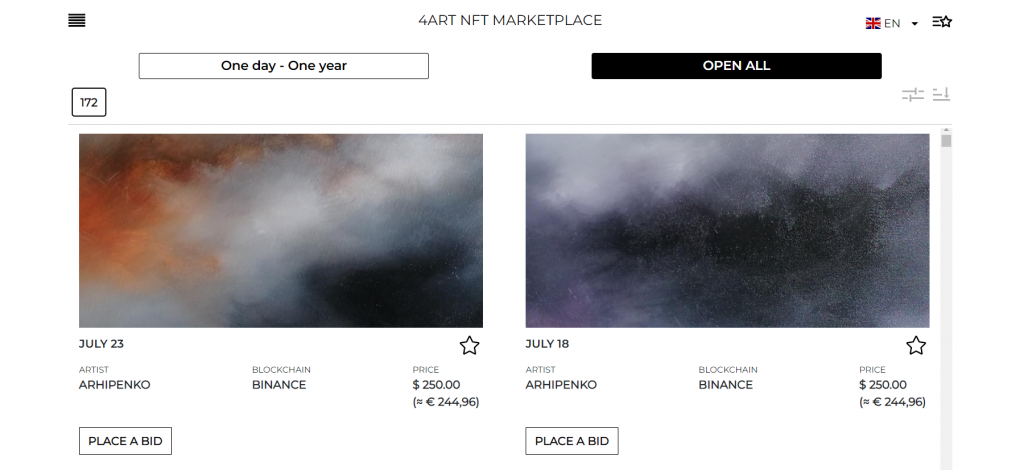 Arhipenko's project is in 4ART App