The following weeks are going to be busy for 4ARTechnologies. We are in Art Basel Paris at the moment, and our most recent NFT+ collaboration is with artist Beni Moshe. He will mint the artworks, and the exclusive drop will be available at 4ART Marketplace.
Beni Moshe: a true art fan
Beni Moshe: "Everyone is the same in front of an art piece"
"Art is to be admired, intriguing, it has to be seen by everyone, you have to lose yourself in the colours and shapes. It is not to be kept in a dungeon or private clubs."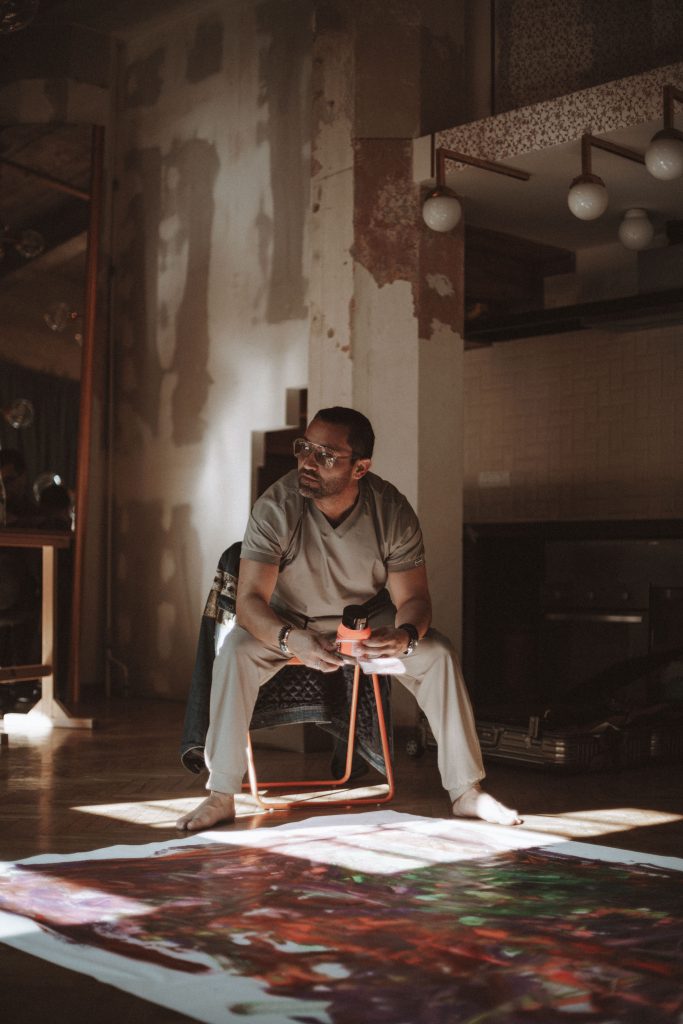 Beni Moshe. Photo courtesy of the artist
Beni started as an art collector; his first acquired piece was Batman on a chair of Joyce Pensato. "Batman was not famous at that time. For me it combines fiction with reality and it was revolutionary. I was so proud of that work; I remember I couldn't stop staring at it and I wanted for everyone to feel that capturing energy," this is how he remembers his first steps into the art world.
"Art empowered me to express myself. There are no cultural or geographical borders to follow. The art speaks to you in your language of that specific moment," explains Moshe, who describes himself as a citizen of the world. "I have traveled to so many countries and experienced cultures and traditions. I am ecstatic to express what I have experienced through colours and shapes. Emotions. People should react to my work, think about it how it can elevate them. I want to challenge their perception of life."
Moshe might be a rebel but is as well down to Earth in understanding how the art world functions. "The current concept is not democratic. Why can't people have access to pieces they like? Why can't they absorb the uniqueness, the details? This is what I am striving for." Moshe says and explains how just admiring a painting and the act of painting itself helped him work things through. He changed the concept of problems to opportunities and challenges: "I made this transformation in my head and I want to emerge what I have learned and empower others to do the same. Artists have to embrace a platform to share their emotions, joy and struggle without any limitations. There shall not be any borders."
The work and inspirations from Beni Moshe
When observing his work, you feel the joie de vivre. You sense the aura of joy as well as the darkest moments a man struggles with. But most importantly, there is the atmosphere of courage, determination and overcoming. "My art is an appeal to people to join me on this path of revelation, distraction, controversy, and fearlessness. I want them to participate in this world I discovered and serve as a bridge to it," he continues. By no coincidence his first line with an artificial bristle brush was pink.
"I admire the uniqueness of Jiri Georg Dokoupil, explore the combinations of colours by Sam Francis, and am blown away by Albert Oehlen – the genius. Joyce Pensato was so ahead of our time – combining humour and sinister. And you can describe Damien Hirst with only one word – revolutionary. All these artists came into my life at the right moment. No, let me rephrase it. I took from them what I needed at the exact moment in life. And that is the point of art. Therefore, it should be available for people at any time, everywhere," Moshe explains and that redirects us to his next project, he is set to take on the world of NFTs.
Beni Moshe works in 4ART Exhibition App
From the 20th of October, his artworks are to be found in the 4ART App. To launch the Yakuza series there will be a live experience with an open bar, Asian fusion food & music. The address is Galerie Joseph, 16 Rue Des Minimes, Paris. Register at the artist's website.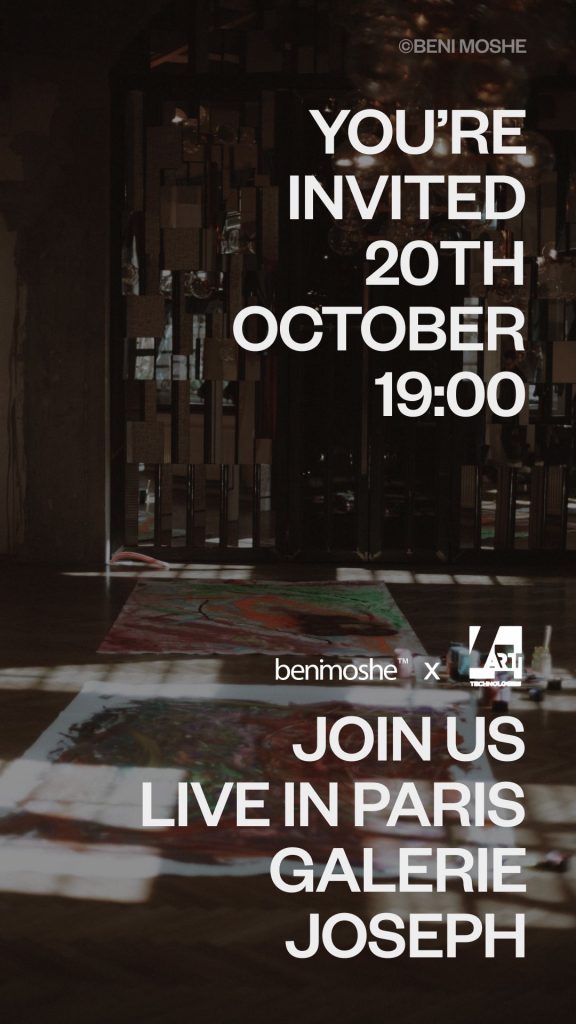 "The right of self-determination may be more fully realized, outside the context of statehood," he explains. "Everyone can display their creativity to the world, each piece is verifiable, there is a proof of ownership and authenticity, and the artist can be justified to royalties through the smart contract," says Moshe but points out as well that art still has to remain art and not a tool for easy money. 
He acknowledges that the collection is accessible to potential collectors 24/7 but people have to experience it: "I want to take them on a journey and create the environment to absorb it. That is why I decided to exhibit my future project in a metaverse and physical galleries and not only on a platform. I don't want to take that feeling of a gallery away from people. That is where the magic happens."
His recent project combines photography, projects the mood influenced by the joy of life, creating its zest and expressing emotions. "This project features girls in a playful and frisky environment. You can not lie about emotions and as William Shakespeare said "The eyes are the window to your soul". I once read that the soul is defined as the principle of life, the feelings, thoughts and actions in humans. This is what I want to bring across."
Beni Moshe is an overthinker. He is critical, relentless, ambitious and curious. He is the person you can enjoy a glass of wine with and talk about life lessons and why not oversee those little magical moments. How to be spontaneous and never lose the inner child. How to see the world in colours and remember that the rainbow is not at the end. «The rainbow is your path, the colours you choose are the life moments you acknowledge. The rest is up to you, that's my conclusion.»
The Yakuza Drop in 4ART Marketplace
The Yakuza series is the opposite of what we can anticipate. The women act chivalrously, mysterious, and show determination in their operations. They have their strength under control and are determined. Beni Moshe`s vision is to give new light to the already known and predictable. Strength doesn't mean masculinity, hardness or brutality, their strength is presented by their elegance, beauty and their strong female, sexy appearance. A look in the eyes of the Yakuza women will take you on a journey into her soul and will reveal your deepest desires.