Being an artist is more than just creating the end result, no matter how inspiring that is. You enjoy the research process, all the studies of color and sketches until you reach that perfect artwork that you feel satisfied with. Now, you would love to sell it to someone who will fully appreciate it.
Selling an artwork is a task that very few artists feel comfortable with. The admin part of being an artist is the least exciting of all, however it has to be done. Here are some ideas to succeed.
How to sell your paintings to a gallery
Working with a gallery takes a lot of learning. You can set yourself up for success with some tips that could help you both with galleries and other networking opportunities.
Remember that today, more than ever, having an online presence is imperative, so collectors or anyone else interested in your work can get a better understanding of you and your artistic statement.
Prepare your work to be sold
Some of the following information might be useful for other platforms and types of exhibitions as well. So take time to do these things thoroughly.
Take photos of the painting, including photos of the framed painting and the whole frame back, showing any labels. 
Take a close up shot of the signature.
Write a description of your artwork and measure and note the dimensions.
Some galleries are open to receive new works, others might be more resistant and will take several factors into consideration before they decide to work with you.
They will value your artwork according to some of the following criteria:
Background of the artist
Formal training or self taught, their sources of inspiration, etc.
Exhibitions
Where has the artist exhibited artworks before?
Subject
What are the themes the artist explores? Depending on the gallery, they might, for example, look for painters focusing on landscapes or portraits. 
Condition
Even if the work is modern, a condition report might be done. How stable is the canvas? Is the artwork glued to the mount?
Current market
Art prices change with fashion, trends and supply. Some galleries will evaluate whether the painting captures the zeitgeist.
Fees and commissions on galleries
Art galleries generally ask for between 30 and 50 percent of a sale. There could also be a listing fee and possibly a selling fee. It pays to review this information in advance to evaluate your choices.
It is likely that a gallery will inflate the prices of your paintings to cover running costs. Artquest recommends to keep the following in mind when negotiating a commission level:
Your accomplishments and pricing history
How many exhibitions, residencies, commissions have you had? Have you sold much at that price point before?
Research your peers
Are other artists at your career level selling their work in similar ways and at similar prices?
The state of the economy
You have to be realistic when selling. There are times when it might make sense to adjust to the larger market.
And most importantly: are you happy with this price?
If you talk to previous clients about this new price, would you be comfortable telling them?
You can decide to create your own virtual gallery instead
If you are overwhelmed by reading what it takes to establish contact with galleries, don't be. There is an easier way to do this, especially if you create your own virtual gallery with 4ART App Professional. 
You can create a profile and upload up to 30 works to your own gallery. Below, you will find more information on how to create a profile.
What makes a difference, is that once you have created a profile, you also register your works with a unique biometric 4ARTpassport. This will allow collectors and galleries to see your work and have trust in what you offer.
How to sell your paintings online
The Hiscox Online Art Trade Report 2020 gives us some insights on how players in the art market are using platforms like Instagram and how collectors choose to buy.
In 2019:
36% of new art collectors, and

40% of millennial art enthusiasts bought work online
Online sales in 2020:
82% of new art collectors, and

69% of millennial art enthusiasts

bought work online
We can see that new collectors (those who started buying during the last 3 years) and millennials are increasingly finding and buying artwork online.
You can consider several options when it comes to selling your art online:
Online galleries

Social media

Your website

Marketplaces

4ART App

Online galleries to sell your work
A lot of collectors and artists trust Saatchi Art. They are the biggest online gallery in the world. They offer work based on different criteria, including subject, art materials used and price. Saatchi Art curates work by themes and fosters a community where artists and art collectors can follow you.
Artfinder has earned attention from several art players, and the categories by which to find artworks are medium, subject and budget. Artists can set up their own store, and being part of the community also includes access to an exclusive forum. They present themselves as the best place to find independent artists.
Feel free to share other online galleries that you think other artists might consider useful. We love to add value to our guides.
Social media
68% of the sample in the Hiscox Online Art Trade Report 2020 named Instagram as their preferred platform for art-related purposes. Instagram is a very popular and visual social media platform.
Facebook is still number one when it comes to users. If you have a business Facebook account, it is connected to Instagram and you can run ads on both platforms. Segmentation is very powerful if you know your ideal audience. In addition, artists and collectors have the possibility to exchange direct messages and make transactions transparent for both parties. 
Pinterest also works as a visual collection where potential buyers can see your personal gallery. The full marketing possibilities of these social platforms for the art market are still to be explored.
If you know of other social media platforms that are great for selling art online, feel free to share them here. We would love to have even more valuable information for our readers.
Your website
Having a website is a must for any business, and the art world is no exception. As an artist, you should have a place where everyone can see your bio, your artist statement and your portfolio, and learn about your processes.
Your website can link to your virtual gallery where you can sell the pieces. Think of the website as a portal to everything else. There you include links to your social media channels and other ways for collectors to connect with you.
Marketplaces
Especially if you are a digital artist, you can make the most of marketplaces to offer your pieces for sale. NFT art is in vogue at the moment, and you can even create NFTs of your analog work.
OpenSea is a universal NFT marketplace where you can trade domains, game items, art and much more.
Nifty Gateway trades with different tokens. According to the platform, the costs for transactions are low.
Makerspace, Foundation and Superare are also popular marketplaces at the moment.
Marketplace and NFT +
4ART App offers the NFT creation in a few steps and in a very user-friendly way. Regardless of the superficial security of the NFTs, our NFT + also has a clearly defined content including all metadata and with a forensic water mark. 
This gives the creator the right to coin the NFT +, and anchor the contained rights and privileges in legally binding documents, which offers future collectors security and transparency.
You can also decide to make it easier and sell your art with 4ART App
4ART App gives collectors the possibility to see artworks from international artists displayed in their homes or offices with augmented reality.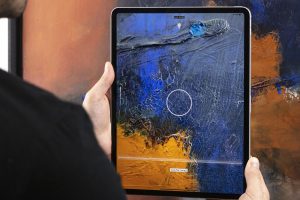 As an artist, using 4ART App Professional allows you to
Secure the originality and copyright of your work

Create a catalogue raisonné

Reach a global audience with VR
When you sell a painting one main concern is logistics. Good logistics are about ensuring that the artwork arrives safely at its destination.
4ART App gives collectors and artists or art dealers
Full track and trace of all movements

Fast artwork verification

Local condition reporting

Detailed data for risk assessment
How to register your artwork on 4ART App
We have a short film about how 4ART App works, and you can check out the details below. 
If you are an artist, open 4ART App and click the register artwork button in the middle of your 4ART App overview, and then click pay and register.
We recommend that you create your profile with your personal information and have your passport with you. During registration you can upload the pictures of your personal ID and select the payment method.
We know you want to have simplified processes, so once you have a profile, a wallet where you can get credits to make transactions will be created free of charge.
Tips to make your registration successful on 4ART App
Have the material list and technical information of the artwork ready to hand.
Place your artwork in a well-lit area. You will make a full size picture of your artwork, and can crop it later if necessary.
Identify three locations for the artwork that are prominent or easy for you to find. You will be able to create detailed images of these authentication areas. 
If your canvas is highly reflective, get an "anti-reflection" shield. This will help you have good quality pictures to authenticate.
4ART App will guide you through the process of registering and authenticating your original work.
If you want to read a detailed step by step guide on how to use 4ART App, go to our support section.
Selling your art in 2022 is possible
In conclusion, you can see that as an artist you have several options to choose from when it comes to selling your art. If you decide to go solo and promote yourself, be careful not to make these mistakes.
Some artists like to have several channels active to be able to communicate with their clients in as many ways as possible. If your ideal clients would love to see the piece displayed before buying, having the augmented reality option 4ART App offers might be something for you. 
If you have the resources to set up a website with cart and payment options, maybe you can sell directly. Remember to consider the logistics involved in packaging and tracking the work. 4ART App offers a tracking service, so you and your client can confirm the status of the artwork during transit; both of you can feel assured that the transaction will work out well and the painting will reach its destination properly.
Selling your art in 2022 is possible if you set yourself up for success. Let your creativity flow, but ensure that you take some time away from the studio to decide which channels and methods are best for you. 
It doesn't have to be overwhelming, now that you know all it takes, you can also decide to make it simple for yourself and have everything in one place: 4ART App.
4ARTechnologies supports you in your journey as an artist
4ART App has more than 90,000 users in 65 countries. Show off your artwork in virtual galleries, and sell using services that make everything more peaceful for you.
With 4ART App, artists create a digital birth certificate for their artwork. With our all-in-one app to provide the first 360° digital infrastructure solution for the art world, creators safeguard:
provenance 

attribution

and integrity of any artwork 
All of this is possible with the forgery-resistant, unique, 4ART Passport, saved forever on the blockchain.
Download 4ART App Professional and unlock the tools for your success in the art world!
About the author:
Paulina Lara Franco
SUPERPOWER:  beat the blank page's fear
Paulina is grateful that since high school she has had the chance to express herself in both communication and theater🎭. Her experience in communication has been mainly developing content strategies for education and startups.
The best advice she received was from her great grandmother: "happiness is easy."