4ARTechnologies and EX Sports are proud to announce the pre-launch of a series of digital sports collectibles featuring football legend Diego Maradona in partnership with CVLabs and the World Football Collection. Starting October 30th, ten non-fungible tokens (NFTs) connected to World Soccer Treasure items from the Maradona estate will be pre-launched in conjunction with an exhibition at the DMCC Crypto Center. Bidding for Maradona "Platinum NFTs" — the first three of these collectibles — will open at 8PM Dubai time (GMT+4).
The winners will receive the NFTs and their corresponding memorabilia, which include Maradona's uniforms and other items. The remaining limited-edition "Gold NFT" collectibles, which are entirely digital, will be offered throughout the month of November on the 4ART App and EX Sports marketplaces. Other partner platforms will be revealed in the coming weeks.
NFT+ created with 4ART App
During the exhibition, German artist Hans Ulrich Pauly will create a painting celebrating Maradona's life. To demonstrate how NFT+ are made, 4ARTechnologies will tokenize the painting and it will be fractionalized into 1,960 digital assets that will be offered individually.
4ARTechnologies, strategic partner of EX Sports with proven expertise in arts, technology, and NFTs, is providing the turnkey fractionalization solution though 4ART App.
These NFTs are the safest
The main characteristics of an NFT are its uniqueness and its perceived security. However, with current NFT standards, this security is only surface deep. The contents are not transparently defined and the included metadata, the all-important details, are open to manipulation when the NFT is created. Authenticity and provenance problems grow substantially for physical and digital artworks. 4ARTechnologies offers proven solutions for these challenges with its NFT+ standard.
1,960 pieces to celebrate the year Maradona was born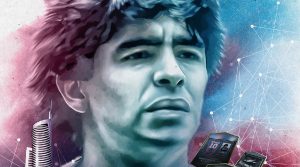 Honouring Maradona's Life and Legacy Though Diego Maradona passed away in 2020, his legacy as one of the greatest athletes in football history lives on. He was named FIFA's Player of the Century after his retirement in 1997, and holds numerous records including 152 free kicks across his four World Cups, the most in tournament history. Every aspect of the Maradona NFT Exhibition has been designed to honour the sporting legend.
"There's a story behind every memorabilia item and detail around the exhibition," said Toli Makris, CEO of EX Sports. "The ten exclusive items represent Maradona's player number, and the fractional ownership of the painting's 1,960 pieces signify the year 1960, the year Maradona was born."
The exhibition started on Maradona's birthday
The starting date of the Exhibition, October 30th, is Maradona's birthday. EX Sports's mission is to provide athletes with a way to issue digital collectibles themselves, paving the way for closer relationships with their fans. In parallel, fans get a new way to engage with their favourite sports stars. Our collaboration with the Maradona estate is an example of this mission in action. In addition to honouring his life and achievements, these ten NFTs provide fans with a new, unique way to connect with the football legend himself.