The new year is already promising to be a big one for 4ARTechnologies! Since the end of 2021, users have the opportunity not only to mint their art but also to offer it for sale at the brand new 4ART NFT+ Marketplace! How to choose the right NFT+ marketplace?  We give you 5 reasons to choose ours!
1 Reason: Digitalization, NFT+ creation and marketplace – all in one toolbox
Whether you are a digital creator or an artist who creates physical works, you can both digitize and offer your works for sale at the 4ART Marketplace. With only one app you can digitize your art, secure your copyright and also create your art NFT+! If you decide to sell your NFT+, in minutes you can transfer it to the integrated marketplace. 
 2. Reason: Higher transparency through KYC 
Participants in the 4ART marketplace are required to identify via KYC. This procedure is both easy to handle and efficient, as users are required to upload their ID or passport. Using the NFT+ microcosmos of 4ARTechnologies you can expect profiles with real names instead of anonymous nicknames. Benefit from more transparency and security!
3. Reason:  Choose the blockchain that fits your needs
Any NFT is supported by a blockchain, in a similar way to a cryptocurrency. While many NFT marketplaces offer only one blockchain during the minting process, with 4ARTechnologies you can choose the best one for you!
If sustainability is your highest priority, Solana Blockchain will be the best fit for you. It is a decentralized blockchain with over 400 projects spanning DeFi, NFTs, Web3 and more.
With Tezos you will be choosing one of the most affordable blockchains, and by selecting Binance you will be using the fastest blockchain.
Decide freely according to your own priorities!
4. Reason: No need to use cryptocurrency 
4ART NFT+ marketplace is very user friendly and easy to handle, even for users who are not tech savvy. There is no need to create a crypto wallet, nor is knowledge in cryptocurrencies required. With our smart in-app solution, you pay for the services you need. In only a few clicks you can create your NFT+ and "drop" it in the marketplace. 
 5. Reason: 4ARTechnologies represents the new standard for digital art trade
4ARTechnologies stands out among the crowd of NFT providers with its higher standards of security. Features of the NFT+ include:
A patented digital fingerprint for infallible verification (for physical art)

A forensic watermark (for digital art work)

All documents are saved with immutable metadata
NFT+ guarantees the highest security combined with being easy to use and accessible for all. 4ARTechnologies provides a new way for creators and collectors to make quick and hassle-free transactions.
Be one of the first artists at the NFT+ marketplace, and create your NFT+ in the easiest way possible!
The marketplace will feature NFTs of well-known international artists, and highly acclaimed works of art will be available.
If all or some of the five points matter to you, download the 4ART App now with no risk, and try it for free!
About the author: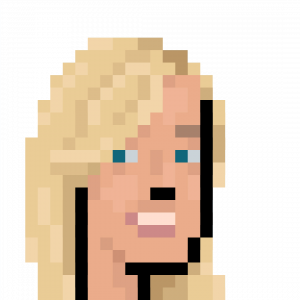 Alina Archelrod
Superpower: telling exciting stories.
She always loved painting and drawing. In high school, she often made pencil portraits of her classmates.  "Unsurprisingly, I studied art history and art education." Today she works from Berlin and now goes to the beach only to sunbathe.🏖️  
"See life as a game" is the best advice anyone has given her.